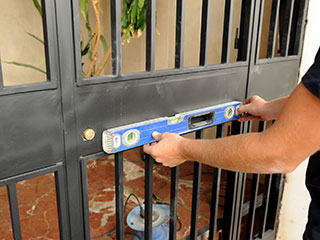 Your driveway gate isn't just a good way to keep unwanted visitors at bay. Sure, it can offer you excellent security and protect your property from intruders, but there's an added element to it – curb appeal. An ornately designed wrought iron gate, for example, has a lot of prestige, and it can make your home or business stand out. Of course, you may be more interested in security than appearance, and you want the strongest slab of steel you can get. That's definitely an option too.
Different Materials For Different Needs
As far as security is concerned, you'll be hard pressed to find a better option than steel. Seeing as you can have a complete panel in front of your driveway and not just bars, then privacy is an added benefit. If you're more interested in visual appeal, or interested in both that and security, then wrought iron or wooden gates have a lot to offer you. The prestige/classic beauty that each type offers, respectively, is hard to beat. Of course, different materials will have different maintenance requirements, and you should familiarize yourself with those before you decide. Remember, both wrought iron and wood need regular repainting to protect them from the elements.
Add Some Convenience
In addition to the gate itself, there are all sorts of extra features that you can get that will make your daily routine enhanced. An electric opener will allow you to use a remote control or even your smartphone to control the gate. An intercom system, wired or wireless, will allow you to communicate with visitors and buzz them in without having to physically be anywhere nearby.
Find The Right System
Asking which type of system is better is a difficult question, as different types can be better in certain situations. A swing gate requires a certain area of available space, while a sliding-type system moves laterally and therefore only needs some room on the sides of your driveway. That's not to suggest that one is better than the other. There are property owners who will prefer a sliding gate while others will choose a swing-system. It depends on needs, both yours and the gate system.
Our Experts Can Help
You don't need to start researching all the possible options and factors that need to be considered before a new gate is installed. Our team will do all that for you, and we'll provide all the information you need to choose wisely. Contact Gate Repair La Mesa today and ask us all your questions.
Let our team take care of it for you!

Linear Gate Intercoms

Parking Garage Gates

Automatic Gate Repair

Liftmaster Gate Opener