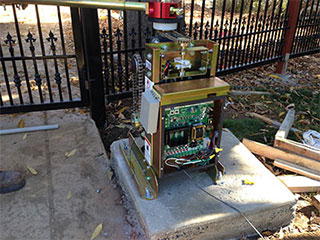 When it comes to gate openers, we know our stuff. Read more below.
Avoid Any Future Problems
Gate openers contain various gears and moving parts, which means they're prone to wearing out. If you've noticed any issues with your gate while opening such as sudden jerks or violent shuddering, there's likely to be an issue with your opener, and repairs may be necessary for it to keep working correctly. It's important to deal with any issues as soon as you notice them, to prevent them from getting any worse. What may begin as a simple repair may spiral into several different and costly jobs if the increased stress put on the malfunctioning opener leads to more parts failing.
We Provide Fast, Excellent Repairs
We provide the best and quickest repairs in La Mesa, and we do it all for an affordable price. Whatever the problem may be, from the circuit board to the gears, our technicians will inspect the opener in detail in order to work out the issue and take care of it quickly. We use only the very best tools and parts available, so any repairs we make will last you for years to come. If we can't make a repair, we can replace and install a new opener for you, providing you peace of mind with a job well done.
Expert Installation Of New Openers
Although installing an opener may seem relatively simple at first glance, it's actually extremely complicated, and requires that various factors be taken into account at the same time. It's all too easy to end up making mistakes that require repairs, which can end up costing you far more money in the long run. All of our technicians are fully trained and experienced professionals, so you can be sure you'll always receive an expert job.
Call Now For More Information
Contact our La Mesa based team today to speak to our friendly staff and book an appointment for a time that best suits your busy lifestyle.
Count on our team for:

Swing Gate Adjustment

Gate Opener Installation

Gate Motor Replacement

Program Doorking Intercom