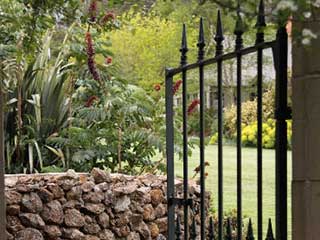 Diverse and affordable automatic gate services are just a call away for any address near La Mesa, residential or commercial. Our team can handle anything from opener repair to intercom installation, as well as track realignment, among many other issues. Don't let a faulty gate get in the way of your daily life.
All Sorts Of Gates
There's a great diversity of automatic gates on the market. Some are designed to slide open and shut along a track. Others swing outward or even lift themselves open. These systems can be made from wood, steel, and other materials, and can have a wide variety of extra features. Fortunately, Gate Repair La Mesa is one of the most flexible service providers in California, and can work with just about any sort of residential or commercial driveway gate.
Quality Parts and Components
Our inventory comes from a number of well-regarded brands and manufacturers, including Elite, LiftMaster, and Eagle, among many others. Our technicians know the ins and outs of the most commonly used openers, sensors, intercoms, and other gate components on the market. If something needs replacement, you can place an order through us and have it put in at the soonest convenience.
Opener and Sensor Services
Automatic gates need high-powered electric motors to get them moving, and those motors require power supplies, safety systems, and remote controls. Different styles of gates require different openers, each with their own vulnerabilities and failure points. Gate Repair La Mesa services openers, sensors, and related systems, and can perform repairs or replacements as needed on all of them.
Custom Made Gate Construction
Weathering, accidents, and other trauma can break the bars or panels of even the strongest material eventually. Gate Repair La Mesa can fix wooden, metal, or vinyl gates, including their hinges, tracks, and locking systems. Our company also provides a custom gate construction service: if you want an automatic system added to your driveway or an older one replaced, let us help you design and build the perfect system for your needs.
Call Us About Your Gate:

Best Prices Around

Easy Online Scheduling

Commercial & Residential Services

Sunday Through Saturday Appointments