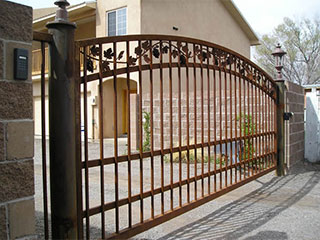 Are you looking to install a new steel gate at your home or business? You can very easily find a perfect design that will complement the property's curb appeal and increase its resale value if you ever decide to relocate. The purpose of a gate is mainly for security but that doesn't mean you can't have a stunning looking one that also lends your home or business a sense of prestige.
Steel Panel Gates
Steel panel gates are a great option for those who value a little added privacy. The panels can have decorative features or can be framed with other materials, such as wood, for an added accent. You can also have cut out shapes at the top of a steel gate to prevent it from looking dull and drab. The panels themselves can be painted in a variety of colors to accentuate your fence and home.
Steel Gates with a View
If you want a gate that gives you security, but you want to show off your grounds, then a steel gate made with bars or a steel mesh may be a great choice for you. Bars can be positioned vertically for a traditional design look, or horizontally for a more modern look. Mesh panels can also be incorporated giving you the open look, but still maintaining a high level of security. Other design accents can be added such as frames, ornate features such as shapes, flowers or custom features. Of course, with this type of structure, privacy isn't maximized, so consider that before deciding.
A Little Something Extra
The entrance to your home should stand out without being over the top. Many modern design options for steel gates combine other materials that look great in any setting. It could be a frame around the entire system, a combination of wood or glass incorporated into the panels of a steel gate or any other custom feature you may want to add. If you find the entire selection process overwhelming, you can always ask us at Gate Repair La Mesa for advice. You can also drive around gated communities and housing estates if you need a little extra inspiration.