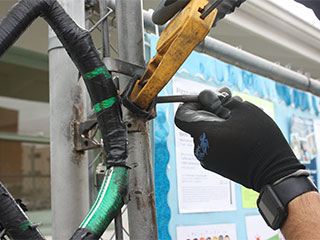 No matter what size or style of gate you have, or whether it swings open or slides across your driveway, some problems can present themselves over time. It's important that you address them quickly, to minimize the disruption to your daily routine, and to prevent more serious damage.
Our Repair Solutions
From restaurants to warehouses, to residential properties of various sizes. Your gate system needs to work smoothly without getting jammed or refusing to close every other day. As is often the case with most complex mechanical systems, there are many different problems you can encounter; from slow or jerky movement to bent and damaged frames. Whatever the problem may be, be sure to let professionals handle it to avoid getting hurt while attempting DIY repairs.
Swing and Sliding Gate Problems
The type of system you have will determine what sort of problems you may be facing. Swing gate hinges tend to rust if they are neglected, at which point movement will be affected, and will become noisier. Sliding gate tracks can become bent or blocked with debris, creating an impediment that will restrict the movement of the wheels and may prevent you from opening or closing the gate all the way.
Consistently Reliable Gate Services
Reliability is key for any gate system - especially for a business, but also for residential homes. Even a small problem can have a severe knock-on effect, making it difficult for customers or deliveries to arrive on time. Some issues can even make it unsafe to use your entry system, so the importance of quality when it comes to repairs can't be emphasized enough. Whenever you encounter problems, whether they involve the electric gate opener, the intercom system or any of the hardware parts, rest assured that there's a local service provider you can turn to.
Gate Repair Experts Near You
Don't hesitate to contact Gate Repair La Mesa when things go wrong with your system. You want your driveway gate to work reliably day in and day out, and that's exactly what our team aims to help you achieve.
Count on us for:
Wrought Iron Gates
Driveway Gate Repair
Ramset Gate Openers
Doorking Gate Intercoms