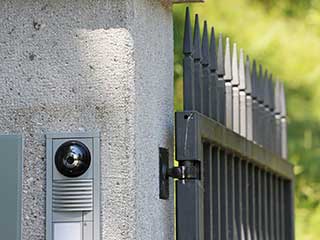 Why waste time having to run out to your gate every time someone visits because you don't have an intercom to check who it is, or the one you have is unreliable? Our team has years of experience and can help with installation or repairs swiftly to make things that much easier!
Reliable, Sturdy Repair Services
Whether due to the elements, age, or otherwise, you may find that your gate's intercom is no longer working as well as it should. Troubles like it cutting out frequently, being hard to hear on one side or the other, or otherwise, all point towards it needing repairs. Rather than put it off and continue to be frustrated by how inconsistent it is, just let us help! Our experts use high-quality equipment and parts along with deep knowledge to quickly find the source of the problem as well as the best solution for it. Your intercom will be working just like new again as soon as our team has finished repairs!
Professional Intercom Installation
Intercoms can be tricky to set up no matter how simple they may say they are, and it's important to know that you can rely on it to be working properly for years to come! That's why it's best to leave it to the experts and let us handle installing it for you. Our team will have it put in quickly and tested to ensure it's working exactly as it should! Don't deal with being unable to swiftly communicate with anyone looking to come inside your property any longer! Our company will help you find the perfect fit for your needs in no time.
Contact Our Professionals Now
It's time to give Gate Repair La Mesa a call today to set up an appointment! Our team will be more than happy to find the time that's best for your schedule for us to come out and get to work, and our experts will always get there on time. You'll only wish that'd you'd reached out sooner!