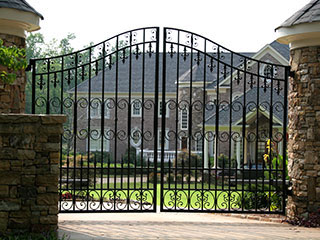 An automatic gate makes life much more convenient for any home or business owner, but only if it's well maintained and working properly. These machines are more complicated than they look, and when something goes wrong it isn't always obvious what to do about it. Fortunately, Gate Repair La Mesa is here for you.
Opener Repair and Replacement
The opener, often called an operator, is a (usually box shaped) machine that contains your gate's electric motor or hydraulic drive system. Depending on what type of system you have, your opener could be located on the ground behind it, mounted on the interior of the fence, or buried underground under the pivots. While openers are shielded against damage, prolonged exposure to the elements and constant work stress from using this system on a daily basis can eventually wear them down. Gate Repair La Mesa can fix damaged openers, replace worn or broken components, and even order and install a brand new unit ideally suited for your driveway.
Gate and Track Repair
Rust, warping, and rot can gradually take a toll on your gate, and accidents or other major impacts can also inflict structural damage. The moving parts of a driveway gate – the hinges, pivots, or track and roller systems – are the most vulnerable, but the bars or panels themselves also need attention sometimes. Whatever specific tasks you need, rest assured that you can leave them to us. From welding services for metal gates, carpentry for wooden ones, and general hinge and roller repair and replacement for systems of all descriptions.
New Gate Installation
Sometimes, you need to have a new gate system installed from front to back, and this is where our diverse capabilities really come together. Using components from a long list of well-regarded manufacturers like Eagle, LiftMaster and Elite, to name a few, Gate Repair La Mesa will work with you to assemble an automatic system to your particular tastes, property needs, and budget range. Our installation service includes metal, wooden, and vinyl gates, in either sliding or swinging style, and includes (if you so choose) the installation of an opener, intercom system, and other accessory devices.
Professional Technicians Nearby
You don't have to search very far when something goes wrong with your driveway gate, or when you decide you want to install a new or to upgrade an old one. The longer you live with a malfunctioning gate or an unprotected driveway, the more stressful it's likely to be. Contact us today, and let us provide the reliable results you're looking for.