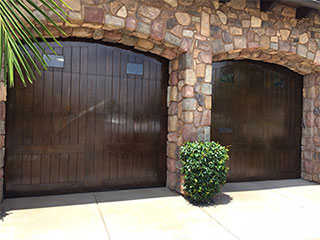 Driveway gates can present all sorts of issues, that's true, but unfortunately this isn't the only automatic entry system in your home that can malfunction. Your garage door also uses an opener, most likely, and even if it doesn't, it's still susceptible to similar types of damage like the ones your gate can suffer from. Well, the good news is that you don't need to look very far for garage door services near you. In fact, you already found the best experts around.
Professional Spring Repair Services
Speaking of potential problems, out of all the issues that your garage door can experience – and there's a lot of them – broken springs are by far the most likely problem. The reason for this is simple. Springs are what the door uses to support and counterbalance its weight. Without them, lifting the panels would be extremely difficult. The constant wear and tear the springs go through means that they'll eventually break. It's impossible to stop this from happening, although there are some maintenance routines that can help these units last longer. Spring adjustment and replacement are dangerous tasks, as the tension involved can be unleashed in a sudden burst, causing the steel component to whip around. If you're in the way while that happens, you can get seriously hurt. No need for you to be there, though, because Gate Repair La Mesa will happily deal with any spring-related problem you need.
Electric Opener Problems
You know how we said your garage door uses an opener just like your gate? Well, that's true. Both of these systems rely on a type of motor to automate their operation (provided they are automatic, of course). Well, as you can probably guess, this type of device is quite complex, and can experience both mechanical and electrical issues over time. Broken gears, bad circuitry and other problems, including misaligned sensors, can cause the garage door opener to not work properly, or start acting up in various ways. Luckily, you don't have to deal with it. All you need to do is give us a call.
The Best Garage Door Service Experts Around
Don't let the name fool you. Gate Repair La Mesa is the best nearby service company to call for all your garage door related issues. From damaged panels that require replacement to track and roller issues. Whatever you need, our services cover it.